DOCUMENTARY:  In the anticipation of a complete documentary chronicling the career of legendary conductor Nathan Carter, a special concert will take place in DC on March 23.
by Patrick D. McCoy
–FROM A PRESS RELEASE
The musical legacy of beloved conductor Nathan Carter who was best known for his leadership of world-renowned Morgan State University Choir will be celebrated by The Carter Legacy Singers with a special benefit concert to raise funds to support the documentary film production about the life and legacy of the late conductor who died in 2004.
The concert will be held on Saturday, March 23, at 4 p.m. at the Washington's historic Zion Baptist Church, located at 4850 Blagden Avenue, NW.  Free and open to the public, doors will open at 3:30 p.m.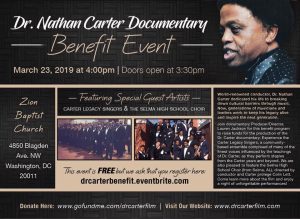 Featuring staples from the Carter years and beyond, the program will feature selections performed by the Carter Legacy
Singers, a community-based ensemble comprised of many of the finest voices influenced by the teaching of Dr. Carter.  "We are delighted for the opportunity to lend our voices in support of such a worthy cause," stated Angelo D. Johnson Jr., director and founder of The Carter Legacy Singers. "As ambassadors of this rich musical legacy, Dr. Carter taught us to use music to teach, to inspire, and to bring break down cultural barriers."  A protégé of Dr. Carter, Colin Lett, is pleased to present,The Selma Singers, which is his ensemble consisting of members of the Baltimore-based, Colin Lett Chorale,  and alumni of the Selma High School Choir of Alabama. Primarily focusing on African American choral literature, the Singers have a passion for choral excellence and premiering new African American motets. The Selma Singers mission is to uplift humankind and advancing the cause of music with their songs.
Established in 2017, The Carter Legacy Singers are a community-based non-profit organization mostly comprised of choir members and Morgan State alumni who studied and performed under the direction of Dr. Carter. The choir is dedicated to keeping Dr. Carter's legacy alive and inspiring future generations of musicians and music lovers alike.  A native of Selma, AL, Colin Lett has musical arrangements in circulation in the African American Church Music Series of GIA Publications, Inc. and the Jason Max Ferdinand Choral Series of Walton Music. Lett is the conductor of the Selma High School Choir and an ordained Baptist minister. He is a life member of Alpha Phi Alpha Fraternity Inc., Phi Mu Alpha Sinfonia Fraternity of America, Inc., and a Friend of the Arts of Sigma Alpha Iota International Music Fraternity, Inc.
Under the careful guidance of Lauren A. Jackson, Jackson is the production manager at GoodFight Media located in Washington, D.C. With more than 10 years of experience producing and managing documentary film, her credits include 18 documentary films and five cable network hit television series. She received a Bachelor of Arts degree in Television Communications and Radio Broadcasting from Howard University.
Nathan M. Carter, who led the Morgan State University Choir in performances all over the world died July 15, 2004 of pancreatic cancer at his home in Baltimore.
Donations for this benefit concert will be used to support the production of the Dr. Carter documentary, which supports the national mission to elevate and preserve the legacy of the positive impact that HBCU institutions have within our communities.
For ticket information, CLICK HERE