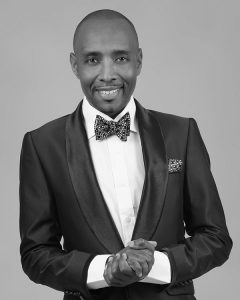 Patrick D. McCoy distinguishes himself as a choral conductor, singer and music journalist residing in the Washington, D. C. area. A native of Petersburg, VA, he earned the BM in vocal performance from Virginia State University where he studied voice with the late Martin A. Strother, sang in the University Concert Choir under the direction Johnnella L. Edmonds and Opera Workshop with Lisa Edwards-Burrs. In 2005, he earned the Master of Music in Church music from Shenandoah University where he studied with Metropolitan Opera tenor Michael O. Forest and organ/sacred music with Dr. Steven Cooksey. Juxtaposing a busy schedule between writing and public appearances, he has covered the arts for several outlets, including The Afro American Newspaper, CBS Washington, Examiner.com and ArtSong Update.
Most recently Patrick was the performing arts columnist for Washington Life Magazine and most recently appointed as Organist/Choirmaster at Saint John's Episcopal Church, Zion Parish in Beltsville, MD. Notable appearances include presenting at the 2012 African American Artsong Alliance Conference at the University of California at Irvine, Moderator: Mendelssohn Elijah Panel at The Kennedy Center, Moderator: Symposium Series at the 2014 Colour of Music Festival and Moderator: Blacks in Classical Music Panel hosted by the Coalition of African Americans in the Performing Arts, Panelist-Shenandoah University Minority Career Panel. In 2016, he returned to Virginia State University to speak to the students in the Department of Music,presenting on the topic "When the Music Stops, What's Next?"
Patrick is a member of the Music Critics Association of Northern America, National Association of Negro Musicians, Inc., Shenandoah University Alumni Board of Directors and Alpha Phi Alpha Fraternity, Inc.