LET'S DANCE: Beloved dance teacher Beatrice Davis-Williams is among those honored by Washington Performing Arts with the 2020 Pola Nirenska Lifetime Achievement Award.
by Patrick D. McCoy
If you have ever been at any of the special services at DC's Trinity Episcopal Church, you perhaps you have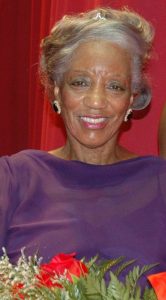 witnessed the stunning choreography of Beatrice Davis-Williams. Beautifully dressed ballerinas gracefully moving to the sacred music during the worship services there is a trademark for any of the special obserances for high church occasion. Williams was recently fêted alongside another dance luminary Carol Foster by Washington Performing Arts with the Pola Nirenska Lifetime Achievement Award in Dance. The Pola Nirenska Awards celebrates trailblazers and leaders of the dance community. Anuradha Nehru was also recognized for outstanding achievements in dance which includes a monetary prize to advance her work in the D.C. area.  In receiving the award, Davis-Williams reflected more on the honor:
I am honored to be a recipient of the Pola Nirenska Award and would like to thank Washington Performing Arts for this recognition. I am blessed to join the past and future honorees of such a prestigious acknowledgment. I am truly overwhelmed." She is the founding owner and Executive Director of the Davis Center Dance Studio in Washington, D.C. she shared.
Jenny Bilfield, President and CEO Washington Performing Arts spoke more about the awards:
We are so proud to link the mission of our organization to the legacy of Pola Nirenska, and to recognize and support the work of dance artists, leaders, and educators who have made their own, indelible contributions to our community and well beyond, Bilfield stated.
As founding owner and executive Director of the Davis Center Dance Studio, Beatrice Davis-Williams became a longstanding D.C.-area community leader that not only provided students with a strong foundation in the performing arts, but also taught them the importance of caring for others through ongoing community service projects. Her vision, perseverance, and passion for dance education as a mission led to the building of an invaluable institution that has consistently succeeded at giving young people easy access to dance and related arts.
For more information about Washington Performing Arts and the awards, CLICK HERE
A native of Petersburg, VA, Patrick holds a BM in Vocal Performance from Virginia State University and a MM in Church Music from Shenandoah Conservatory. Formerly the Performing Arts Columnist for Washington Life Magazine, he currently is a freelance writer, publishing articles for several noted publications, including The Washington Post, Early Music America Classical Music Voice North America, The Afro-American Newspaper, CBS Washington and Examiner.com. He is a member of the Music Critics Association of North America, National Association of Negro Musicians, Inc., The American Choral Directors' Association, a member of the Shenandoah University Alumni Board of Directors and a Life Member of Alpha Phi Alpha Fraternity, Inc. He serves as Organist/Choirmaster at Saint John's Episcopal Church, Zion Parish in Beltsville, MD and serves on the music faculty of Virginia State University where he teaches applied voice, music appreciation and assist with the University Concert Choir. Visit http://www.patrickdmccoy.com