A Time to Remember:  Friends and Colleagues remember the talents of musician John Bradford Bohl (1981-2018).  A choral evensong will honor his gifts among us at Washington National Cathedral on Sunday, September 2, 2018 at 4:00 p.m.
by Patrick D. McCoy
The sudden death of organist and singer John Bohl especially took the Washington music community by total surprise.  Vastly gifted as a countertenor and virtuoso keyboard artist, John was humble with his abilities.  His death comes in succession with so many others, in particular in the early and sacred music communities: singer Scotty Auby, a colleague and fellow singer with The Washington Bach Consort and then the death founder J. Reilly Lewis, for whom John sang many concerts under his direction.  John now completes sort of a "Bach Trimuvirate"  joining his fellow artists who loved and performed the works of Bach in glory eternal.
John was special to so many.  While working with The Washington Chorus, he served as assistant conductor and worked with the Jr. Washington Chorus.  He also worked with and led the TWC Outreach Singers.  In both instances, he brought a level of professionalism, musicianship and camaraderie.  But many would agree that John was most home in the realm of sacred music, breathing life into the rich pipe organ repertoire that he performed and provided richness to countless anthems during his work at Saint Paul's Episcopal Church, K Street in Washington, D.C.  His friend and colleague Robert McCormick, who was then music director at Saint Paul's reflected on his work with John.
"John had one of the biggest hearts of anyone I've ever met. And he was without question one of the most prodigiously gifted musicians I've ever known. He was an embodiment of the term "complete musician". It was one of the great privileges and joys of my life to make music alongside him for nearly 8 years, something I'll never forget. Nor will the dozens and dozens of singers and boy and girl choristers who sang under his direction, or heard his masterful accompaniments and hymn playing. He poured everything into his music-making — all of his enormous heart — and the hundreds upon hundreds who heard him play or sing will never, ever forget it either."
And then, there are those special moments caught from 'a different lense.'  Noted photographer Shannon Finney shared about a wonderful moment that she had with John when they spent the day together for a fun photo shoot.
"John was as loving and kind and funny and charming as he was talented. He was so uncomfortable being photographed. He was more shy than you would think someone with his level of talent would be. So I took the first few photos and I went over and sat next to him and showed him what was in my viewfinder. I told him what I saw when I looked at a photo of him – this man who was beautiful inside and out. So he grumbled at me, said some words under his breath, and then smiled that smile he smiled when he would try to stop himself from smiling and we had this wonderful afternoon."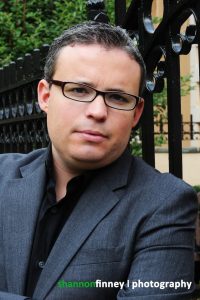 In addition to singing with The Washington Bach Consort, The Cathedral Choir and Cathedra of Washington National Cathedral, John was also a member of Texas based early music group Ensemble VIII.  John was admired for his singing abilities.  The press acclaimed that he was a  "sterling countertenor" with "a voice of clarity and dexterity."
Beautiful reflections like these bring us all to the true essence of John's character.   The light of a gifted, young musician has been extinguished.  John was funeralized on Saturday, August 11, 2018 in Flint, Michigan. He will be forever missed.
REMEMBERING JOHN BRADFORD BOHL:  (1981-2018)
Memorial Evensong at Washington National Cathedral, including webcast information and leaflet
A native of Petersburg, VA, Patrick holds a BM in Vocal Performance from Virginia State University and a MM in Church Music for Shenandoah Conservatory.  Formerly the Performing Arts Columnist for Washington Life Magazine, he currently is a freelance writer, publishing articles for several noted publications, including Early Music America.  He is a member of the Music Critics Association of North America, National Association of Negro Musicians, Inc. and Alpha Phi Alpha Fraternity, Inc.  He serves as Organist/Choirmaster at Saint John's Episcopal Church, Zion Parish in Beltsville, MD. Visit http://patrickdmccoy.com