A SPECIAL CAUSE:  The Haiti Micah Project in partnership with the music ministry of Saint John's Episcopal Church will present "An Evening of Music for the Season" a special virtual concert to benefit children, youth and young adults in Haiti.
by Patrick D. McCoy
On Saturday, December 19, 2020 at 7 PM EST, The Haiti Micah Project will host a very special virtual concert as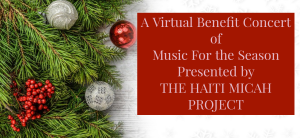 a special fundraiser.  Presented in a virtual format this year, the concert will feature The Parish Choir of Saint John's Episcopal Church, Beltsville, MD, concert organist Paul Byssainthe, vocalists  Sarina Desir, Melissa Sites, Zoe Hillocks, violist Robin Fay Massie, trumpeter Ian Johnson and Patrick D. McCoy with the National Chamber Ensemble.  Opera superstar Denyce Graves will also make a special appearance, performing two selections recorded especially for this very special benefit concert.
The Haiti Micah Project is a Christian organization committed to addressing the needs of over 500 impoverished and uneducated children in Haiti. It began in response to the challenge of street children and families at risk living in Mirebalais, Haiti, a city located in the Central Plateau. On 2005 city leaders requested help from the Rev. Joseph Constant, a Haitian American Episcopal priest, living in Alexandria. Virginia. The HMP nonprofit was established and incorporated in the Commonwealth of Virginia and in Haiti. It is tax exempt under section 501(c)(3) of the Internal Revenue Code and is not under the auspices of any church, denomination, or government affiliation.
TO PURCHASE TICKETS:  CLICK HERE