A WELL-DESERVED PRESENCE:  The celebrated composer Adolphus Hailstork will have his music featured at the 2021 Presidential Inauguration.
by Patrick D. McCoy
According to publicist and music historian Bill Doggett, "The President's Own" United States Marine Band will feature the a special transcription of "Fanfare on Amazing Grace" by the eminent composer Adolphus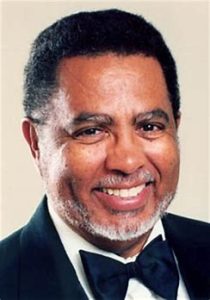 Hailstork.  Doggett shared in a press release that the ensemble has announced rehearsing a transcription of the beloved hymn setting for performance as part of the pre-ceremony music to be showcased at The Biden-Harris Inauguration on January 20th, 2021.
"Adolphus Hailstork is one of the country's leading composers. This performance announcement is historic as it is only the second time in American history that music by a contemporary African American composer has been selected to be part of the repertoire performed at a Presidential Inauguration"  Doggett said further.
Hailstork received his doctorate in composition from Michigan State University, where he was a student of H. Owen Reed. He had previously studied at the Manhattan School of Music, under Vittorio Giannini and David Diamond, at the American Institute at Fontainebleau with Nadia Boulanger, and at Howard University with Mark Fax.
Dr. Hailstork has written numerous works for chorus, solo voice, piano, organ, various chamber ensembles, band, orchestra, and opera.
Watch this video of a well-documented performance of the work performed by Maestra JoAnn Falletta and The Virginia Symphony Orchestra
A native of Petersburg, VA, Patrick holds a BM in Vocal Performance from Virginia State University and a MM in Church Music from Shenandoah Conservatory. Formerly the Performing Arts Columnist for Washington Life Magazine, he currently is a freelance writer, publishing articles for several noted publications, including The Washington Post, Early Music America Classical Music Voice North America, The Afro-American Newspaper, CBS Washington and Examiner.com. He is a member of the Music Critics Association of North America, National Association of Negro Musicians, Inc., The American Choral Directors' Association, a member of the Shenandoah University Alumni Board of Directors and a Life Member of Alpha Phi Alpha Fraternity, Inc. He serves as Organist/Choirmaster at Saint John's Episcopal Church, Zion Parish in Beltsville, MD and serves on the music faculty of Virginia State University where he teaches applied voice, music appreciation and assist with the University Concert Choir. Visit http://patrickdmccoy.com