TUNE IN
"Generations" will mark my début as Guest Host and Creative Producer of The Washington Chorus ' TWC TV today at 5 pm EDT.
VIEW ON YOUTUBE
We all have experienced the connection and joy that music brings from generation to generation. Dave and Daphne continue the theme from the last episode which featured how Daphne's parents met in TWC. Then I connect with acclaimed composer Damien Geter -a Matoaca, VA native whose star is shining bright! Rounding out the show is a special twist!  Don't miss it!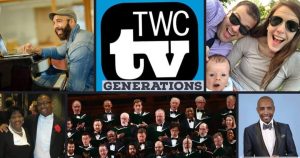 P.S.  I'll be interviewing three of today's leading African American composers on the October 29 episode of TWC TV. Mark your calendars for 5pm Eastern time!