IN OUR OWN BACKYARD:  1998 Matoaca High School Damien Geter, who is making his mark as an operatic soloist and composer will have his new work "Cantata for a More Hopeful Tomorrow" featured in a world premiere virtually this Saturday by The Washington Chorus.
by Patrick D. McCoy
When we think of great composers that hail from the Commonwealth of Virginia or connected to Virginia State University in some way, many harken to the names such as Undine Smith Moore, Adolphus Hailstork or Roy Belfield.  The presence of Damien Geter is one that should be added to the list.  Geter, who was raised figuratively in the backyard of Virginia State University credits his community and church influences, especially organ recitalist and composer Roy Belfield for his early interest in music.
GET AN INSIDER'S LOOK BY WATCHING THE LATEST EPISODE OF TWC TV TODAY at 5 PM EST HOSTED BY PATRICK D. McCOY, interviewing TWC Artistic Director Eugene Rogers, soprano Aundi Marie Moore and award-winning film maker Bob Berg.
On Saturday, November 14, 2020, at 7:30 PM EST, The Washington Chorus, one of the Nation's Capital's leading symphonic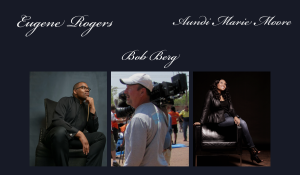 choruses will virtually present a world premiere performance of Geter's "Cantata for a More Hopeful Tomorrow."  Performed virtually, the work was inspired by the current COVID-19 pandemic.  Featured in the performance will also be Metropolitan Opera soprano Aundi Marie Moore, who is a Norfolk, Virginia native and cellist Seth Parker Woods.  Prepared and led by artistic director Eugene Rogers, the virtual performance will feature over 100 singers in a stunning film presentation by the award-winning film maker Bob Berg.
To learn more about the performance and how to witness this once in a lifetime opportunity visit: The Washington Chorus website
A native of Petersburg, VA, Patrick holds a BM in Vocal Performance from Virginia State University and a MM in Church Music from Shenandoah Conservatory. Formerly the Performing Arts Columnist for Washington Life Magazine, he currently is a freelance writer, publishing articles for several noted publications, including The Washington Post, Early Music America Classical Music Voice North America, The Afro-American Newspaper, CBS Washington and Examiner.com. He is a member of the Music Critics Association of North America, National Association of Negro Musicians, Inc., The American Choral Directors' Association, a member of the Shenandoah University Alumni Board of Directors and a Life Member of Alpha Phi Alpha Fraternity, Inc. He serves as Organist/Choirmaster at Saint John's Episcopal Church, Zion Parish in Beltsville, MDVisit http://patrickdmccoy.com.  Follow him on twitter @PatrickDMcCoy and IG: PDM06.