A NEW HOST:  In a surprise announcement on the 9/24/2020 installment of TWC TV ahead of its 60th Anniversary Birthday Bash next month, Executive Director of The Washington Chorus Stephen Marc Beaudoin announced that DC based arts journalist, radio host and musician Patrick D. McCoy as the guest host and producer of its popular Virtual Web Series
FROM A PRESS RELEASE: TWC WELCOMES ACCLAIMED ARTS CRITIC PATRICK D. MCCOY AS GUEST HOST + CREATIVE PRODUCER FOR TWC TV SERIES THIS FALL AND WINTER
"To help accelerate the expansion and growth of its popular online TWC TV web series, D.C.'s only two time Grammy award-winning choral ensemble, The Washington Chorus, is proud to announce and welcome acclaimed arts critic and media personality Patrick D. McCoy as its new Guest Host and Creative Producer for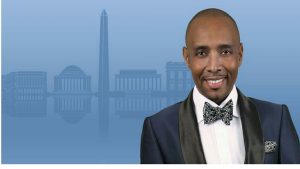 the TWC TV series this October, November, and December.  With over 7,000 series views, hundreds of dedicated live watchers, and a growing global audience, TWC TV has grown from a small idea to a beloved online program that brings together choral music lovers from around the world," said TWC Executive Director Stephen Beaudoin. "From insightful artist and community partner interviews to sharing powerful music and performances, the feedback we've gotten is that this is a vital new initiative with lots of potential. And who better to help realize this potential than D.C.'s own acclaimed arts critic and bon vivant, Patrick D. McCoy? With Patrick as our guest host and creative producer these next few months, I'm truly excited to experience the vital conversations, stories, and music that will be shared on TWC TV.
READ THE COMPLETE FORMAL ANNOUNCEMENT HERE
WATCH THE LIVE ANNOUNCEMENT
"As Guest Host and Producer for the fall and winter shows, Mr. McCoy will curate and creatively produce five TWC TV episodes, also serving as the series host, bringing to light many of the artists, issues, and ideas connected to The Washington Chorus' fall and winter programs through in-depth artist interviews, online performances, and more.
His TWC TV guest host and creative producer role is modeled as a pilot program, and currently scheduled for five episodes: October 15, October 29, November 12, December 3, and December 17, 2020. All episodes will stream for free online via TWC's YouTube channel on Thursdays at 5 pm Eastern."
"This new relationship with The Washington Chorus represents a paradigm shift in my work as an arts journalist, but particularly, as a media personality that has focused on covering the DC performing arts scene in a variety of mediums and platforms," Mr. McCoy says. "It was The Washington Chorus' former Executive Director Dianne Peterson and former artistic director Julian Wachner that considered my efforts with respect early on. That spirit has continued throughout the last 10 or so years, more recently with former Maestro Christopher Bell and now with current music director, Maestro Eugene Rogers. Even though this now means that during this particular season of hosting, I will not be able to 'cover' their efforts from an editorial standpoint. I am actually a part of the team and truly grateful for this unexpected invitation from current executive director Stephen Marc Beaudoin."