BACK ON STAGE:  After an array of performance cancellations and venue constraints, ensembles began to return to the stage in full force with exciting productions.
LEAD PHOTO:  The Washington Bach Consort performed the world-premiere of "A New Song" by Trevor Weston at National Presbyterian Church.
by Patrick D. McCoy
The wrath of the COVID-19  pandemic stalled performances and arts events around the world.  As it relinquished its clutches, performance venues began to open back up in full force.  Here are my top arts events of 2022 and look forward to expanding coverage in 2023!  These events are not necessarily in chronological order, but they are ranked on the level of which they impressed me as an arts reviewer and journalist.  Happy New Year!
#1 Trevor Weston premieres "A New Song" with Dana Marsh and The Washington Bach Consort
September 18, 2022, National Presbyterian Church, Washington, D. C.
The acclaimed composer Trevor Weston had his choral work "A New Song" premiered by The Washington Consort under the direction of his dear friend and colleague Dana Marsh.  This work was inspired by his teaching in the collegiate music arena and was written as a response to J.S. Bach's dramatic secular cantata, Geschwinde, geschwinde, ihr wirbelnden Winde, BWV 201.  As I listened to the work, interestingly I found in my interpretation that Bach's work actually responded musically to the fresh new ideas and musical devices used in the Weston's modern work.  It is always gratifying to experience how current conversations inspire traditional standards and evoke a response that perhaps would have not been considered.
#2 Maryland Lyric Opera, Puccini's "Turandot" in Concert
February 25, 2022, The Music Center at Strathmore, Bethesda, MD
This performance was actually my 'return' to the major concert hall experience, after watching several performance and arts events virtually like so many.  Conducted by Louis Salemno, the concert rendering of the beloved Puccini favorite featured an all-star cast headed by soprano Alexandra Lobianco in the title role.  Other outstanding standouts in the cast included soprano Nicole Heaston and bass Morris Robinson.  It was certainly a worthwhile venture back to Strathmore to hear the excellent soloists with the equally talented orchestra and chorus.
#3 Washington, D. C. début of The Jason Max Ferdinand Singers at National City Christian Church
There was certainly a wonderful buzz in the artistic air of DC when it was announced that The Jason Max
Ferdinand Singers would make their début in the Nation's Capital.  Led by the brilliant conductor Jason Max Ferdinand Singers, the ensemble of diverse voices performed in the iconic majesty of National City Christian Church.  This program featured a variety of choral repertoire that included works by Beethoven, Handel and spirited selections from the African-American tradition.  The Coalition for African Americans in the Performing Arts, one of the nation's premiere arts advocacy organizations for Black classical musicians partnered with the ensemble by hosting a pre-concert lecture and 'informance' at The CAAPA Cultural Arts Center.  Arts maven Terri Allen serves as executive director.  Prince Georges' Suite Magazine provided exceptional coverage of the event.
READ MORE:    "Music that Inspires"  Prince George's Suite Magazine
                           "Jason Max Ferdinand Singers set to make debut in Nation's Capital
#4  "Across the Arts"  An interview with Dr. Edward Maclary on his retirement from the University of Maryland at College Park as Director of Choral Activities.
In May 2022, Dr. Edward Maclary announced his retirement after a storied career as Director of Choral Music and Professor of Music at the University of Maryland at College Park.  Maclary has been a tremendous force, especially on the DC choral scene with his choirs at the university often appearing in major symphonic repertoire with the National Symphony Orchestra. One his memorable performances as director was a staged version of Brahms 'A German Requiem' with The Thirteen.  In advance of his retirement, Maclary appeared on "Across the Arts" to chat with the host about his tenure at the University of MD, next plans and his successor.
WATCH THE INTERVIEW ON "THE MAESTRO SERIES:

#5  Choral Arts Society of Washington:  "The Depth of Joy" Scott Tucker's 10th season and final concert as Music Director
On June 15, 2022, Scott Tucker marked his 10th and final season with The Choral Arts Society of Washington with an evening of choral music by Brahms themed "The Depth of Joy" in the majesty of Washington National Cathedral.  It was only fitting that his final concert occured in the very place that he was introduced to the DC choral music world by by Choral Arts founder, the late Norman Scribner.  During his tenure, developed a rich rapport with the singers and enjoyed a wonderful friendship with Scribner, until his passing.  One of the advantages of the pandemic was the ability to tune in virtually from anywhere in the world.
SCOTT TUCKER ON HIS FINAL SEASON WITH CHORAL ARTS AND FUTURE PLANS: 

#6  Naima Burrs debuts as Music Director of the Petersburg Symphony Orchestra, April 2022
Hailing from a musical family, in recent years Naima Burrs has stepped into her own greatness as a violinist, professor of music and conductor.  A native of Richmond, VA she was named music director of the Petersburg Symphony Orchestra.  Following in the footsteps of her predecessor, the late Ulysses Kirksey and the orchestra's founder, the late F. Nathaniel Gatlin, Burrs is continuing the rich tradition, while introducing the ensemble to new repertoire.  This summer, she traveled to Quebec, Canada to study with world renowned conductors Yannick Nézet- Séguin and Thomas Rösner through the conducting academy of Domaine Forget at Charlevoix.  Additionally, Burrs serves as the orchestra director at the University of Richmond.
WATCH MAESTRA BURRS CONDUCT THE PETERSBURG SYMPHONY ORCHESTRA, THE ONE VOICE CHORUS AND SOLOISTS AT A RECENT PERFORMANCE OF HANDEL'S "MESSIAH DECEMBER 2022.

#7 The Monteverdi Vespers, with Matthew Robertson and The Thirteen
On October 22, 2022 we were transported into the antiphonal grandeur of Monteverdi's 1610 Vespers. Establishing a reputation of musical excellence in anything it undertakes, the evening of music soared from one height to the next.  Under the direction of Matthew Robertson voices was joined by the Children's Choir of Washington led by Margaret Nomura Clark and was accompanied by the period instrument ensemble Dark Horse.  There were numerous standout moments in this concert.  A special nod to sopranos Michele Kennedy and Molly Quinn who are both beloved and familiar voices on the DC early music world.
#8 Dr. Antonio Hunt named Director of Choral Activities at Randolph Macon College
Fall Concert at Randolph Macon College, October 27, 2022
Congratulations to Dr. Antonio Hunt on his first Fall Concert as the new Director of Choral Activities at Randolph-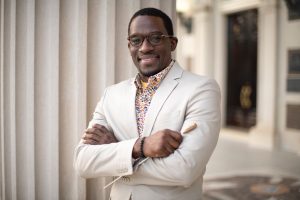 Macon College. It was wonderful hearing his Concert Choir and Chamber Singers perform. More importantly, it was gratifying to see all of the supportive parents, faculty and friends in attendance. Music on the program included works by J. S. Bach, Z Randall Stroope, Rosephanye Dunn Powell and numerous others. Looking forward to future programs.
#9  "Der Freischütz," by Carl Maria Von Weber with Wolf Trap Opera
This June 2022 evening at Wolf Trap featured a performance of Carl Maria von Weber's rarely performed opera  "Der Freischütz"  "Typically, when one thinks about the great love stories portrayed on opera stages, in the forefront are the works of Mozart, Puccini or Donizetti. Carl Maria von Weber is probably not at the top of the list, but he should hold a place of high esteem for Der Freischütz.  Considered the first German romantic opera, this three-act work opera opened in its Wolf Trap premiere Saturday night."
READ MORE OF OUR OUTING AS A GUEST CONTRIBUTOR TO WASHINGTON CLASSICAL REVIEW
#10 Classical Movements 30th Anniversary Gala, October 2022
To celebrate the monumental accomplishments of Classical Movements,                                                            the organization mounted an elegant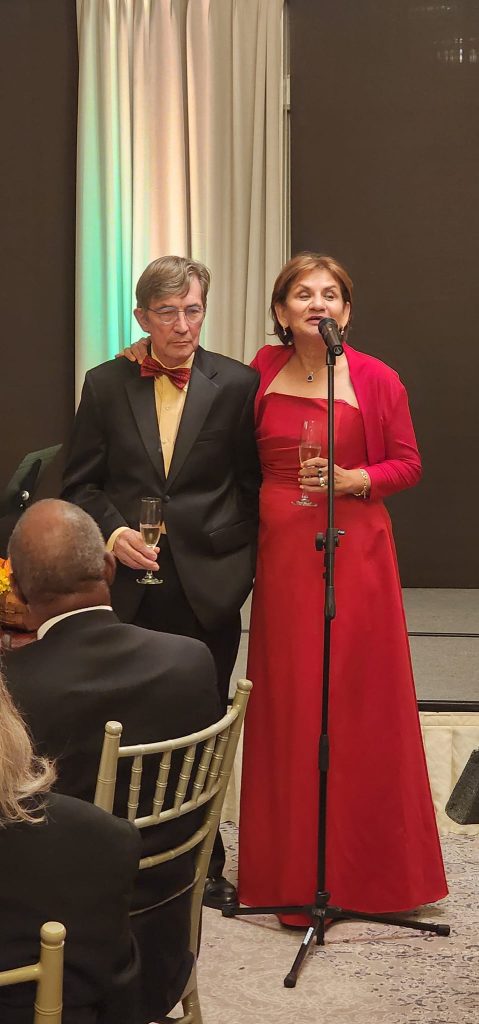 gala celebrating its 30th year.  The event was certainly a 'who's who' in the in the DC performing arts arena.  Joined by her husband Johan van Zyl, founder Neeta Helms hosted a festive evening for all to enjoy.  The organization is responsible for the international travel and arrangements of countless ensembles across the country and around the world.  A highlight of the evening were the world premiere of several pieces for the occasion and rousing performances by The Morgan State University Choir under the direction of Dr. Eric Conway.
A native of Petersburg, VA, Patrick holds a BM in Vocal Performance from Virginia State University and a MM in Church Music from Shenandoah Conservatory. Formerly the Performing Arts Columnist for Washington Life Magazine, he currently is a freelance writer, publishing articles for several noted publications and organizations, including The Washington Post, Early Music America, Classical Music Voice North America, The Afro-American Newspaper, Prince George's Suite Magazine, CBS Washington and Examiner.com. Most recently, he was named as a new contributor to Washington Classical Classical Review. He holds membership in the Music Critics Association of North America, National Association of Negro Musicians, Inc., American Choral Directors' Association, Association of Anglican Musicians, a former member of the Shenandoah University Alumni Board of Directors, a member of the Shenandoah University Black Alumni Network and a Life Member of Alpha Phi Alpha Fraternity, Inc. Just recently he was named to the Dean's Circle of the Shenandoah Conservatory Advisory Board.  He serves as Organist/Choirmaster at Saint John's Episcopal Church, Zion Parish in Beltsville, MD and is Interim Director of Choral Activities and Instructor of Music at Virginia State University. Visit http://patrickdmccoy.com and follow him on twitter @PatrickDMcCoy, IG: PDM06. and subscribe to "Across the Arts" on YouTube.