FOR IMMEDIATE RELEASE:  (4/28/21) The internationally acclaimed composer and conductor John Rutter joins "Across the Arts" host Patrick D. McCoy for a live virtual conversation via Facebook Live and YouTube Live.
The music of John Rutter for decades has found a welcomed home in the repertoire of choirs across the globe. The celebrated composer will be featured as a part of THE MAESTRO SERIES on "Across the Arts" with Patrick D. McCoy on Friday, April 30, 2021 at 11:00 A.M. EDT (4:00 p.m. UK) streamed live on both Facebook and YouTube.  Whether is his popular anthems such as "For the Beauty of the Earth," "The Lord Bless You and Keep You" or his masterworks such as the "Requiem, "Magnificat," "Gloria" or "Te Deum," Rutter's music has found an iconic place in the sacred music repertoire.  Through his Collegium record label founded 1983, his compositions have reached listeners around the world through the glorious voices of  his professional chamber choir the Cambridge Singers. The ensemble has made over fifty recordings.
John Rutter was born in London and studied music at Clare College, Cambridge. He first came to notice as a composer during his student years; much of his early work consisted of church music and other choral pieces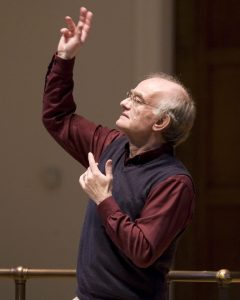 including Christmas carols. From 1975–79 he was Director of Music at his alma mater, Clare College, and directed the college chapel choir in various recordings and broadcasts. Since 1979 he has divided his time between composition and conducting. Today his compositions, including such concert-length works as Requiem, Magnificat, Mass of the Children, The Gift of Life, and Visions are performed around the world. His music has featured in a number of British royal occasions, including the two most recent royal weddings. He edits the Oxford Choral Classics series, and, with Sir David Willcocks, co-edited four volumes of Carols for Choirs. In 1983 he formed his own choir the Cambridge Singers, with whom he has made numerous recordings, and he appears regularly in several countries as guest conductor and choral ambassador. He holds a Lambeth Doctorate in Music, and in 2007 was awarded a CBE for services to music.
TO WATCH LIVE ON YOUTUBE:  CLICK HERE
TO WATCH ON FACEBOOK:  CLICK HERE
Beginning in 2010 initially as a podcast hosted by Washington based arts journalist and music critic Patrick D. McCoy, "Across the Arts" has evolved to add the virtual component, much in part to the COVID-19 pandemic.
About TE DEUM ARTS MANAGEMENT ARTS SOLUTIONS: Te Deum Arts Management Solutions is a boutique public relations firm, specializing in providing tailored PR services to enhance the brand of performing arts organizations as well as individual projects and companies. For Press Inquiries: tedeumams@gmail.com