EXCLUSIVE:  A Game Changing Appointment:
On the cusp of its nearly 60 year choral presence in our Nation's Capital, Eugene Rogers will be the first African-American conductor of The Washington Chorus, one of our country's premiere symphonic choirs.  Here, we share some of the details as well as an exclusive interview with Maestro Rogers.
(This exclusive feature story and interview appears in special courtesy by Stephen Beaudoin-Executive Director of The Washington Chorus, with many thanks.)
by Patrick D. McCoy
The Washington Chorus (TWC)  has been synonymous with choral excellence for nearly 60 years.  From its inception and founding as The Oratorio Society of Washington in 1961 by the late Hugh Hayward, it has continued to enjoy critical acclaim under conductors Robert Shafer, Julian Wachner and Christopher Bell.  The two-time Grammy award winning chorus will enter yet another chapter of leadership.   Beginning in the summer of 2020, Dr. Eugene Rogers will be begin his tenure as the chorus' fifth artistic director.  Certainly, each music director in TWC's storied history has brought their own level of individuality to the position.  It is certainly worth mentioning that in this pantheon of conductors, Rogers will be the first African-American conductor to hold the post, adding another dimension to this new era with The Washington Chorus.  Greg Watkins, who is a Washington D.C. based conductor, music educator and Howard University graduate expressed his excitement with Rogers' appointment.  "It is with complete joy that I celebrate Maestro Eugene Rogers as the newest addition to The Washington Chorus family. What a gem he is and will surely stand to be as the new Artistic Director and Principal Conductor of this Grammy Award winning choir. He brings such inspired vision and necessary vibrancy, eagerness, merited skill set, collaborative will, defined intent, and strong partnering abilities that are guaranteed to impact the DC regional cultural community in an explosive way" he expressed.
Kara Morrissey, who served as search committee chair also shared her thoughts.  "We are excited to welcome Eugene Rogers to the The Washington Chorus family: he brings such musical expertise and precision, as well as enthusiasm, energy and vibrancy to his work…His experience nationally and internationally in the choral world, his creative and ambitious programmatic visioning, his interest in connecting to the DC community, and his experience as a collaborator are all part of The Washington Chorus' hope and vision for the future" Morrissey continued.
We caught up with Maestro Rogers for an exclusive interview regarding his appointment, vision for The Washington Chorus and the imprint that he hopes to make on the DC Choral landscape.
A CONVERSATION WITH DR EUGENE ROGERS
PDM:  What excites you about this new journey with The Washington Chorus?
Eugene Rogers:  I never in a million years would have imagined that my journey would bring me back home, even though I am not a DC native. (I am a Virginia native) So coming back and being able to maintain my university life in tandem with The Washington Chorus feels like the absolute perfect relationship on both ends.  For me, also the idea of working with a historic chorus that honors the traditions of the past, but also has as a part of their mission to advance choral music in many ways, whether it be through diversity, being inclusive of its members in the chorus, collaborations with our partners or commissioning new voices is important.  When I think about my work teaching in the undergraduate program at The University of Michigan, which is a choral/orchestral program, a lot of our time is spent studying the major works.  Having this new post with The Washington Chorus along with that feels very symbiotic because the work that I do with The Washington Chorus directly relates to what I am teaching at the university.  My students can also be a part of that through various opportunities such as collaborating with the National Symphony Orchestra, as well as other artists in the DC area.  It just feels right, like the right thing, right now!
PDM:  Could you share briefly with the reader about what encouraged you to throw your hat in the ring?
ER:  After I was told about the opening, I began to look at the chorus' mission statement, their job description-which mentioned that they were seeking a conductor who was basically rooted in diversity, interested in moving the chorus forward in this 21st century with strong vision, programmatic ideas and a leader who is a visionary.  These are the things that they stressed.  Learning about all of that, I realized that this was definitely something that I had a deep interest in.  Still, I approached it with a bit of hesitation because I didn't know that there was a possibility for my university life to coincide.  All of these factors led me to my decision.
PDM:  If some asked you to describe your style, approach with a choir or preparing for a performance, what would be some of those things that would stand out?
ER:  Passion, filled with passion and hopefully the integrity of the arts in terms of being true to what I think the composer's wishes are as well as the context of the music.  I am committed to the people that I am working with so that it is an organic experience.  When people see me with the chorus, I hope that they can tell that I am committed not just to the music, but to the people.  I hope also that they also see me perform that they may never know which direction I may go in.  I may do the Brahms "Requiem" then turn around and do a little bit of "Shabach."  Stylistically, because I was raised in the African-American Church coupled with my experiences at some of the best musical institutions in the country, it has created in me the ability to go in and out of a lot of different styles at ease.
PDM:  How will you leverage your experiences at the University of Michigan in terms of appealing to younger audience members and participation?
ER:  The Washington Chorus has a strong desire to nurture the future generation of musicians.  That gave me great interest in that aspect of their mission because that is what I am all about.  They have several programs that we plan to maintain.  In addition, we are planning to add a mentoring program for composers of color, women, future conductors, singers or finding other ways to collaborate.
PDM:  In what ways will you work to diversify the repertoire as well as members of the chorus?
ER:   I am hoping to start a "Mahogany" series that will focus on the Black/Latinx/American Indian communities.  That repertoire will include everything from traditional classical, hip-hop, gospel:  you name it under the umbrella under this "Mahogany" concert series in which we collaborate with artists and the community. My experiences with my professional work with Sphinx and Exigence, my work at the University of Michigan and now with The Washington Chorus actually allows me to use all of that.  The training of future conductors, bringing out the Black and Latin communities, the repertoire of unknown composers/artists, broadening the conversation surrounding what a symphonic chorus looks like in the 21st century and having a real connection to a community are a part of this.  Its really everything that I am all about.
PDM:  There are great conductors who comprise the TWC legacy:   the late Hugh Hayward, Robert Shafer, Julian Wachner and Christopher Bell.  Undeniably, you are the next great conductor who happens to also be the first African-American in its history.  How do you see yourself in this pantheon of conductors and their foundation to your work as you move forward?
ER:  First of all, I am extremely humbled to be in line with such great, known, historic and musically strong conductors.  There is no doubt about the legacy they all left.  I am honored to now be a part of that legacy.  My life has been a bit about following great conductors.  At the University of Michigan, I happen to lead a program that has been one of the top five conducting programs in the country for years and following my own teacher Dr. Jerry Blackstone in that program.  So, I have never been afraid to take that next step partly because I stand on the shoulders of such great people.  None of us just began on our own.  I believe that we are all helped in some way and stand on the shoulders of great conductors.  I feel that many have paved the way for me, whether they had this role or not.  This mindset was instilled in me by my family and my mentors who inspired me and challenged me.  I am excited to have this opportunity and hope that the DC community will embrace me.
PDM:  What is a dream choral work that you have itching to do with a large symphonic chorus that you may want to try out with TWC?
ER:   Oh my Lord!  How do you limit it to one? Are you kidding me?  I would have to give you a couple:   Mendelssohn's "Elijah," Bach's "Saint John Passion," Undine Smith Moore's "Scenes From the Life of a Martyr" and Mary Lou Williams' "Mass."  That's just a few!  I could go on and on.  We are trying to do a kaleidoscope the first year to give people a taste of what they may hear in the series, which will include choral and orchestral things.
PDM:  With this opportunity to conduct one of our large symphonic choirs in our Nation's Capital, how do you see yourself perhaps as an inspiration or role model for other conductors, particularly persons of color?
ER:    First of all, no one can deny representation.  I think the power of seeing people who look like you in positions of authority and leadership is palatable.  Someone who is aspiring to do what I do seeing that I have achieved these positions and being in a position of leadership, while not only being there but also extending a hand.  This is where our mentoring programs and collaborations with HBCUs (Historically Black Colleges and Universities) in the region is important. Whether it is programmatic, through singers, conductors and composers, I plan on being a presence with these young people in the area, not just through the job, but also through the programs that we hopefully will initiate and start through The Washington Chorus.  Representation is pivotal.  It has to start there.  The music that we program will greatly affect people's interest in who we are and what we do.
_________________________________
Dr. Rogers' appointment was unanimously approved by The Washington Chorus board of directors on unanimous recommendation from the Chorus' Artistic Director Search Committee, following an eight-month global search which yielded more than 80 highly qualified candidates.  A  two-time Michigan Emmy Award winner, a 2017 Sphinx Medal of Excellence recipient, and a 2015 GRAMMY Award nominee, Rogers is recognized as a leading conductor and pedagogue throughout the United States and abroad. In addition to being the founding director of EXIGENCE, Rogers is the director of choirs and an associate professor of conducting at the University of Michigan.
Former Washington Chorus Executive Director and leading arts administrator Dianne Peterson offered her support to Rogers in his new appointment.  "I am thrilled to be welcoming Eugene into this amazing organization. Widely acknowledged as a skilled, creative musician and educator, I am confident he has the right combination of energy and drive to lead The Washington Chorus into its next chapter" Peterson shared.  News of the appointment of Eugene Rogers as the next artistic director of The Washington Chorus has garnered much praise.  
Aaron Dworkin, MacArthur Fellow and founder of the Sphinx Organization continued with words of congratulations for his friend and colleague:  "This extraordinary appointment brings Eugene's artistic excellence combined with his unwavering commitment to audiences and diverse communities into a leadership organization with a rich legacy in our nation's capital. Together they are poised to transform not only their audiences and community but also the trajectory of our art form" he stated.
The Washington Chorus completes its 59th season with a range of performances this February to June, led by current Artistic Director Christopher Bell, including a St. Patrick's Day Celebration Concert (Friday, March 13, 2020, 8 pm – Music Center at Strathmore); "The Future is Female" collaborative concert with the Heritage Signature Chorale (Saturday, April 4, 2020, 4 pm and 8 pm – Live! @ 10th  and G); the Rachmaninoff Vespers (Saturday, May 2, 2020, 7 pm – National City Christian Church); two installments of Rob Kapilow's "What Makes it Great?" series at the Smithsonian National Museum of Natural History (Sunday, Feb. 23 and Sunday, May 17, 6:30 pm) and the season-ending appearances singing Beethoven Symphony no. 9 with the National Symphony Orchestra under Music Director Gianandrea Noseda, June 12-14, 2020 at the Kennedy Center Concert Hall.  There is a creative spark and joy that Christopher Bell has brought to the performances by The Washington Chorus and his presence will remain readily felt as that joy is manifested and continued with a new dimension.
Praise for the appointment of Eugene Rogers continued from Chorus America President and CEO Catherine Dehoney– "Congratulations to the Washington Chorus on this announcement, and to our board member Eugene Rogers on this next chapter in his growing career. We're excited to see what Eugene's leadership and vision will bring to a chorus that contributes so much to its community and the choral field."
With a burst of energy, a vision for innovative programming and singing to stories of the community, we look forward to the presence of Eugene Rogers, embracing him into the DC performing arts landscape.
THE MAESTRO AT A GLANCE: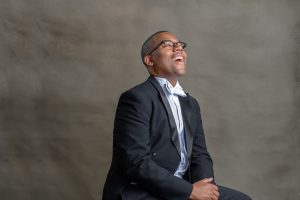 47-year-old acclaimed choral-orchestral conductor
Grammy award nominated for his chorus preparation on Darius Milhaud's "L'orestie d'Eschyle" (Naxos release, 2014; nominated for a Grammy Award in 2015 for Best Opera Recording)
Currently serves as Director of Choirs and Associate Professor of Conducting at the University of Michigan, positions in which he will continue while in the Artistic Director role with The Washington Chorus
Has guest conducted dozens of professional vocal, choral, and orchestral ensembles in an enormous range of music in his career, including guest conducting appearances with the Flint Symphony Orchestra, Sphinx Symphony Orchestra, VocalEssence, the State Choir of Latvia, and – as a leader fiercely dedicated to fostering the next generation of singers and musicians – countless collegiate and high school honors ensembles
Founding Director of EXIGENCE vocal ensemble, a professional vocal ensemble housed within the lauded Sphinx organization
2017 Sphinx Medal of Excellence winner, recognizing his outstanding contributions to the field of classical choral music
A native of Petersburg, VA, Patrick holds a BM in Vocal Performance from Virginia State University and a MM in Church Music from Shenandoah Conservatory.  Formerly the Performing Arts Columnist for Washington Life Magazine, he currently is a freelance writer, publishing articles for several noted publications, including The Washington Post, Early Music America Classical Music Voice North America, The Afro-American Newspaper, CBS Washington and Examiner.com.  He is a member of the Music Critics Association of North America, National Association of Negro Musicians, Inc., The American Choral Directors' Association, a member of the Shenandoah University Alumni Board of Directors and a Life Member of Alpha Phi Alpha Fraternity, Inc.  He serves as Organist/Choirmaster at Saint John's Episcopal Church, Zion Parish in Beltsville, MD and serves on the music faculty of Virginia State University where he teaches applied voice, music appreciation and assist with the University Concert Choir. Visit http://patrickdmccoy.com