INTERVIEW:
Samuel Ramey is one of the most famous basses singing in the world today.  Patrick D. McCoy spoke with Mr. Ramey about his career, recent book and operatic performances, including his 2010 appearance with Washington National Opera in "Hamlet" by Ambroise Thomas.
by Patrick D. McCoy
Patrick D. McCoy:  You recently sang Rossini's Barber of Seville and Verdi's Attila at The Metropolitan Opera and now you are here in Washington, D. C. singing in Thomas' Hamlet with Washington National Opera.  That is quite a schedule.  How do you manage to perform all of these very different roles so quickly?
Samuel Ramey:  I have been doing these roles almost my whole career.  Don Basilio in the Barber of Seville was the first larger role that I had been given at New York City Opera.  I was doing a lot of coverings and sang smaller parts.   This role served as a stepping stone for my career and have performed it all over the world.  I have sung the title role in Attila for almost 30 years, one of the most memorable performances being at La Scala with Riccardo Muti.    I had not performed the opera Hamlet on stage until I was asked by Washington National Opera and I am thankful for the opportunity.  I did do a recording in 1993 of the opera.  Claudius in Hamlet will probably be one of the last operatic roles that I sing as I scale back, moving towards the end of my career. 
PM:  Your career has been filled with glorious singing milestones.  What would you consider the "crowing achievement" of your career?
SR:  There have been so many 'so called' crowing achievements and high points.  I have sung in theaters all over the world… singing The Marriage of Figaro at La Scala:    My teacher was one of the original members of the New York City Opera Company.  My goal when I went to college was to sing with New York City Opera and I did!  That was a great moment.   Those are just some of the special ones.
PM:  Tell me a little more about your hometown of Colby, Kansas and its role in your development as a singer.
SR:  It is a very small town.  My mother hoped I would drive everybody crazy and pursue music.  All of my other siblings were musically talented, but did not pursue it.  So when I did, she was very happy.  I had a fine music teacher that gave me a lot of encouragement and a basic appreciation of singing.
PM:  What would you like to do musically in a concert setting that you have not done already?
SR:  I think I have pretty much achieved all of my goals.  The Metropolitan Opera recently feted me on the occasion of my 25th Anniversary with the company.  I also celebrated my 30th anniversary with the Houston Grand Opera and San Francisco Opera.  There is a new book that was just finished about my career.  We have been working on it for a while, so I am glad that it is finished.  I will be signing copies of it after the Sunday matinee (May 30th) performance.
PM:  That is absolutely wonderful!  I will encourage everyone to purchase it.  So…you don't think you will record a pop, Broadway or crossover album?
SR:  I don't think so,  Now Broadway… I may be tempted. (share laugh)
PM:  You recently sang as a guest on mezzo-soprano Frederica von Stade's Farewell Recital at Carnegie Hall.  How did that come about?
SR:  'Flicka' and I have been friends for over 30 years. We have sung together a lot on stage and in the last 5 or 6 years have sung duo recitals across the country.  So when I was asked to sing for the recital, I was honored.  Flicka is a great lady and very special.
PM:  Do you foresee a concert of that sort in the near future as you come to the end of your career?
SR:  I don't know. I think the Met may be inviting me back for a final performance., but I do not  know definitely.  We will see.
PM:  My favorite soprano Kathleen Battle is also in town this week, singing concerts with the Morgan State University Choir and the Baltimore Symphony Orchestra.  I was watching some wonderful performances of the both of you together on Youtube.  Would you share your experiences working with her?
SR:  Sure.  We did not sing much together, but I remember the first time working with her in a performance of Figaro.  I thought "Wow, she is going places."  This was before she became a big star at the Met.  We did a few things together:  Don Giovanni in Salzburg, The Barber of Seville, and the recordings of Handel's Semele and Messiah.  You hear all the stories….some may be true or some not.  I have always had a good rapport with Kathleen and we worked well together.  I have not seen her in several years.  Will you see her after the concert? If so, please give her my love.
PM:  I will.  So, when you are not singing what kind of music do you listen to?
SR:  I don't listen to music much when I am not singing.  I am a big sports fan and I like movies and theater.  I have a 7 year old son, so he keeps me busy.
PM:  As a bass, what singers have served as models for your approach to singing?
SR:  Ezio Pinza, Nicolai Ghiaurov and Norman Triegle who was a  great singing actor at New York City Opera in the 50s.
PM:  What advice would you give to young singers aspiring to have a career in opera?
SR:  Well,  just study hard and make sure that their technique is solid before they launch out.  Work hard on languages.  That is very important.  When I do master classes, I work with this most.  I remember one of my agents advised me to work with a coach in Italy and when I was learning Mephistopheles, I studied with a coach in Paris.  Things like this are important.
PM:  Again, what an honor it has been to speak with you.   I have listened to you for years on numerous recordings.  Thank you so much and I hope to make it to opera.
SR:  My pleasure and hope to see you at one of the performances.
PURCHASE THE BOOK: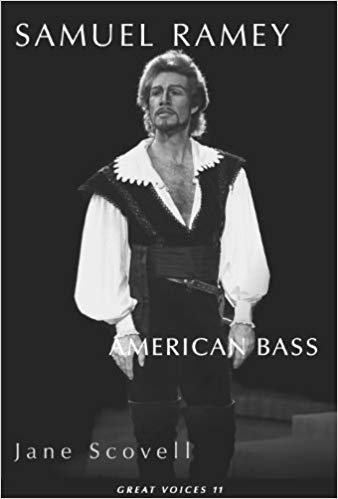 A native of Petersburg, VA, Patrick holds a BM in Vocal Performance from Virginia State University and a MM in Church Music from Shenandoah Conservatory.  Formerly the Performing Arts Columnist for Washington Life Magazine, he currently is a freelance writer, publishing articles for several noted publications, including The Washington Post, Early Music America Classical Music Voice North America, The Afro-American Newspaper, CBS Washington and Examiner.com.  He is a member of the Music Critics Association of North America, National Association of Negro Musicians, Inc., The American Choral Directors' Association, a member of the Shenandoah University Alumni Board of Directors and a Life Member of Alpha Phi Alpha Fraternity, Inc.  He serves as Organist/Choirmaster at Saint John's Episcopal Church, Zion Parish in Beltsville, MD. Visit http://patrickdmccoy.com