A VOICE IN THE COMMUNITY:
The Coalition for African Americans in the Performing Arts puts the spotlight on the arts, with special emphasis on prominent leaders in local government and media.
by Patrick D. McCoy
This week, some of our nation's most prominent movers and shakers in government leadership will descend upon our Nation's Capital  for the annual Congressional Black Caucus.  With cuts in funding and the amount of importance placed on the performing arts, the local arts advocacy non-profit organization:  The Coalition for African-Americans in the Performing Arts (CAAPA) annually mounts a special reception to celebrate local leaders who trumpet the need for greater awareness and support for the arts.  At this year's "Melody of Art"  the organization led by Executive Director Terri Allen will honor these contributions in grand fashion with a very special evening.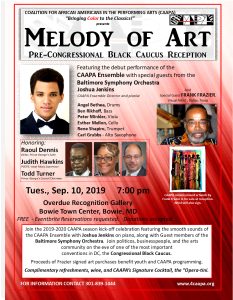 Several Prince George's County luminaries will be honored during the evening which will feature the CAAPA Ensemble and members of the Baltimore Symphony Orchestra. This year's honorees are include Judith Hawkins, Vocal Music Supervisor of Prince George's County Public Schools receiving the CAAPA 2019 Arts Advocate Awardee for her work, commitment, and dedication to youth, the arts, and education.   Prince George's County Councilman and Chairman, Todd M. Turner representing District 4 will be honored as the CAAPA 2019 Community Advocate Awardee for his continued work in the community and Raoul Dennis, Editor of the Prince George's Suite Magazine and the Suite team members will be honored as the CAAPA 2019 Communication Advocate Awardees for the extensive and meaningful media coverage of political, community and arts events.
Additionally, the event will mark the début of CAAPA Scholarship recipient pianist Joshua Jenkins and the newly formed CAAPA Ensemble.  The performance group will present a combination of jazz and classical music during the evening.  Joining them for the special occasion will be members of the Baltimore Symphony Orchestra.   Returning this year is acclaimed visual artist Frank Frazier from Dallas, TX, who will have his works available, with the proceeds of which, benefiting the mission of CAAPA to "bring color to the classics!"
 IF YOU ARE GOING:
Melody of Art
Pre-Caucus Season Kick-Off Reception on Tuesday, September 10, 2019, 7:00 pm at the Overdue Recognition Gallery located in the Bowie Town Center, Bowie, Maryland.
A native of Petersburg, VA, Patrick holds a BM in Vocal Performance from Virginia State University and a MM in Church Music from Shenandoah Conservatory.  Formerly the Performing Arts Columnist for Washington Life Magazine, he currently is a freelance writer, publishing articles for several noted publications, including The Washington Post, Early Music America Classical Music Voice North America, The Afro-American Newspaper, CBS Washington and Examiner.com.  He is a member of the Music Critics Association of North America, National Association of Negro Musicians, Inc., The American Choral Directors' Association, a member of the Shenandoah University Alumni Board of Directors and a Life Member of Alpha Phi Alpha Fraternity, Inc.  He serves as Organist/Choirmaster at Saint John's Episcopal Church, Zion Parish in Beltsville, MD. Visit http://www.patrickdmccoy.com